In session five, we worked on listening as a tool of creation with some exercises that involve listening to each other and responding together to create soundscapes. We started with the simple pebbles in a pond game where you do this imagining you are throwing pebbles in a pond and you make the sound of your pebbles hitting the water. After this simple warm up we moved on to a good old fashioned rhythm jam, using our voices and bodies as the instruments. Despite our success at the pebbles game, our first attempt didn't go so well (not enough listening, I suspect) but the second go round was marvelous and we jammed successfully for quite some time which was a lot of fun.
[Flinn: They also played an awesome game of Gibberish Wars. Lots of good variety!]
[Flinn: We also played Human Membrane. This exercise can be played a number of ways. First we just play with tension and resistance against another body. They walk towards each other at Then we add words or frequently a line from one of the readings to the mix: they say it when they make contact and again when reaching the other side of the space. Sometimes we also add in a transformation of shape as well. This is an exercise that illustrates the principle that you only need to know two things when performing: what are you saying and what are you doing. A big part of the workshop is showing how creative you can be when only given a few rules to follow or only a few actions that you can do: What can you do when you can do almost anything? What can you do when you can only walk across a space and speak a single line twice?]
Our first reading was a new selection by Gao Xingjian, Ballade Nocturne, that combines his spare but evocative poetry, dance, and live music to create a meditation on the idea of idealized woman. Our second reading was from The America Play by Suzan-Lori Parks, a play so rich with ideas there is always something new to be found or discovered in it.
After the readings we continued our exercises in listening and responding with some word jazz. In this exercise small groups of performers use a line from the text. They can perform the line however they like, breaking it up, repeating single words, changing their pitch, volume, speed. They listen to each other and respond using the words from their line in a group improvisation. This is a great game for listening and responding and building something together, but it is also good for learning focus and commitment, as the results usually elicit strong responses from the audience, or even fellow group members who contribute in ways that surprise each other. Their success at maintaining their focus in this exercise was impressive and bodes well for our further work!
In session 6 we focused on control and precision in our physical work.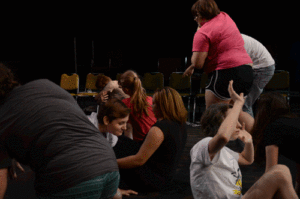 It was just as exhausting as it sounds, but the change half an hour of exercises in control made to the physical work the group is doing was evident and exciting.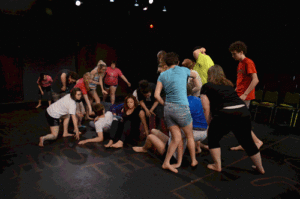 [Flinn: We also ran a slow motion race today]
In the readings we began with a playwright new to us: Sarah Ruhl. We read Melancholy Play, which the playwright describes as a "sincere melodrama." Sounds strange right? You have no idea. At the end of the play everyone has turned into an almond, or have they? Yeah.
Then we read another new playwright Dael Orlandersmith. Orlandersmith is famous for her one woman shows and collections of monologues, but recently she has started branching out into multi character works, and this is exciting, since that works oh so much better for our purposes. We read "My Red Hand My Black Hand" in which a woman and her mother and father tell the story of her heritage as half Native American and half African American. Orlandersmith says she tries to emulate the way the guitar and the drums talk to each other in rock and roll or the blues with her dialogue. In this play direct references to John Lee Hooker's Boom Boom make it obvious that watching this play is supposed to feel like listening to the song, so we listened to the song. Always a good day when you get to sit and listen to John Lee Hooker!
After the readings we continued our explorations of control in a bit of a different way by breaking down gestures and reassembling them. The more precise you can be in this exercise the more successful it is.
We finished the session with some shaping, but with the added aspect of an established rhythm in which the participants move together and are still together.
By the very end everyone had come together to move and shift within a single shape and it was truly electrifying to see the work being done.